Shaoxing, April 16, 2021 – Jiecang Linear Motion was a winner of this year's iF DESIGN AWARD, the world-renowned design prize. The winning product, Handset JCHT35M6 / Remote Control, won in the discipline Product, in the 1.18 Building Technology category. Each year, the world's oldest independent design organization, Hannover-based iF International Forum Design GmbH, organizes the iF DESIGN AWARD.

Handset JCHT35M6 / Remote Control won over the 98-member jury, made up of independent experts from all over the world, with its differentiated rotating design and unique features. The competition was intense: almost 10,000 entries were submitted from 52 countries in hopes of receiving the seal of quality.
Rotate to raise and lower desk
Handset JCHT35M6 is the first touch screen hand control in the industry that can adjust the height of the adjustable desk by just rotating it. Users can raise the adjustable desk by rotating it clockwise, and lower the desk by rotating it counterclockwise.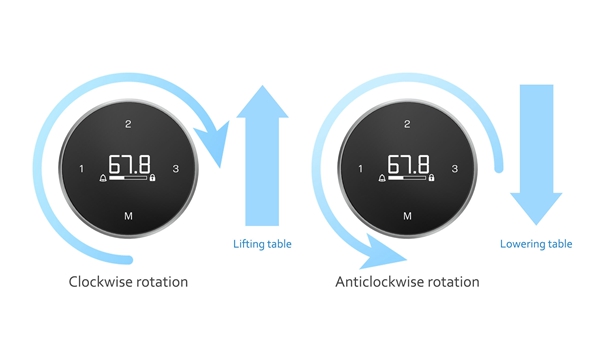 Remote Control & Sedentary Reminder
With the built-in Bluetooth 5.1, users can connect the hand control to a mobile application to remotely control the height of adjustable desks. Through the hand control, users can directly set the sedentary reminder function to remind them to leave the seat after sitting for a long time, which helps users develop a healthy work habits.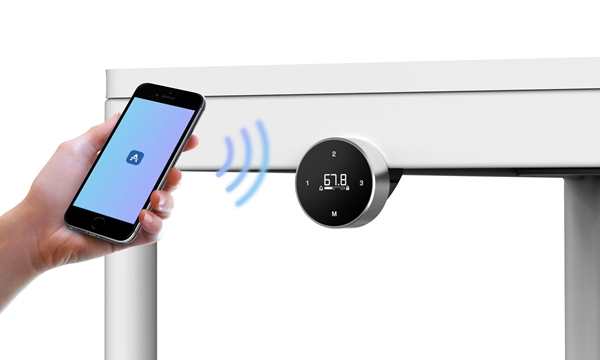 Remotely adjustable desk with mobile app
Sedentary reminder - the hand control vibrates to remind the user to leave the seat
Memory keys to store your positions
With 3 memory keys on the controller, users can set 3 different height positions of the lifting table and store them permanently, saving more time in the subsequent adjustment process.
Recycled aluminum materials
Following the sustainable development strategy, Handset JCHT35M6 uses environmentally friendly recycled aluminum materials, which can directly reduce energy consumption and ensures high products durability.
Aesthetic appearance
Based on aesthetics, it has a streamlined circular contour with a diameter of only 6 cm. Through the black OLED screen with matte silver rotatable part, it is simple yet elegant, low-key and luxurious, which can be easily paired with any electric height adjustable desk.
More information about Handset JCHT35M6 can be found in the "Winners" section of the iF WORLD DESIGN GUIDE .
You can also find more information about Handset JCHT35M6 on our product detail page.
About Jiecang Linear Motion
JIECANG, a technology group focusing on the research, development, production and sales of linear motion products, integrates global resources, provides intelligent motion and control solutions for industries like smart office, medical care, smart home and industrial automation using technology to drive intelligent life. With 20 years of industry experience, JIECANG responds quickly to customers' requirements and endeavors to become a world-leading solutions provider in linear motion systems and promote downstream product intelligent transformation, bringing the new values of intelligence, health (ergonomics) and fun to its new products. For more information, please visit us at https://en.jiecang.com
About the iF DESIGN AWARD
For 67 years, the iF DESIGN AWARD has been recognized as an arbiter of quality for exceptional design. The iF label is renowned worldwide for outstanding design services, and the iF DESIGN AWARD is one of the most important design prizes in the world. Submissions are awarded in the following disciplines: Product, Packaging, Communication and Service Design, Architecture and Interior Architecture as well as Professional Concept, User Experience (UX) and User Interface (UI). All awarded entries are featured on the iF WORLD DESIGN GUIDE and in the iF design app.